I normally sew sitting on the floor  With a growing pregnant belly it has been getting really difficult! I've since had to migrate to the living room coffee table to sew. Here are a few of the latest custom orders that I've finished, and the last ones I have been able to do in my usual floor position– and probably among the last ones I'll do before baby comes!
Get a Clue, Nancy Drew!
The gal who ordered this quilt had already purchased some of the Nancy Drew fabric by Moda.  She sent me a picture of a quilt she saw and liked, and from there I put together my own pattern for this one.
What a fun fabric collection!  Here is the original picture I was sent that inspired the finished design: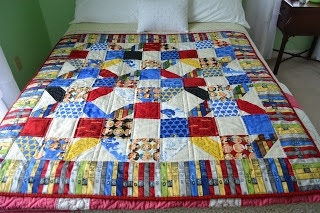 And here's my very technical drawing of the proposed design:
It was fun using this fabric with a custom pattern, and the girl was thrilled with the result!
Scrappy Patchwork
This is one of the simplest quilts for me to make.  There is little cutting and no piecing!  You can really just zip it together in a few hours.  It also has a unique scrappy look to it since the squares have raw edges.
I wish that I had gotten a better closeup of this one! The fabrics the customer picked out were from several different lines, but worked super well together.  One of them was flannel instead of quilting cotton, so there was an extra texture in it.  I ended up ordering extra fabric so I have another quilt top in the works with it.  I'll take better pictures of that one :)
Timber Leaf Arrow
I've noticed this fabric line before, and I love it!  I was pretty stoked to get to make a quilt with it!
Here's the entire line:
The customer had just picked out a few that she wanted.  It was super hard to find them, since the line has been out for a while.  After seeing them in person, I wish that I had used them sooner! I'd probably make more quilts with it for myself!